12 iulie 2010
The photographic artworks of Gregory Colbert
explore the poetic sensibilities of animals in their natural habitat as they interact with human beings. No longer shown as merely a member of the family of man, humans are seen as a member of the family of animals. None of the images have been digitally collaged!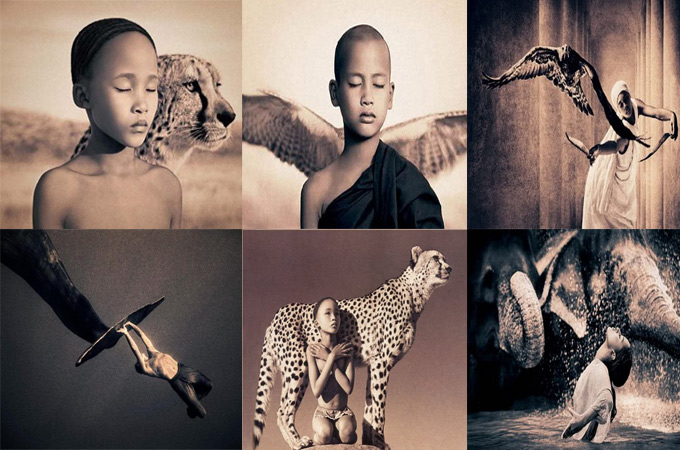 "In exploring the shared language and poetic sensibilities of all animals, I am working towards rediscovering the common ground that once existed when people lived in harmony with animals. The images depict a world that is without beginning or end, here or there, past or present."
—Gregory Colbert, Creator of Ashes and Snow
His 21st-century bestiary includes totemic species from around the world. Since he began creating his singular work of Ashes and Snow in 1992, Colbert has undertaken photographic and filming expeditions to locations such as India, Egypt, Burma, Tonga, Sri Lanka, Namibia, Kenya, Antarctica, the Azores, and Borneo.
The title Ashes and Snow refers to the literary component of the exhibition—a fictional account of a man who, over the course of a yearlong journey, composes 365 letters to his wife. The source of the title is revealed in the 365th letter. Colbert's photographs and one-hour film loosely reference the traveller's encounters and experiences described in the letters. Colbert, who calls animals "nature's living masterpieces" chose to film animals in their native habitats in an effort to be true to each animal's voice. The film can be viewed as a work of art as well as a poetic field study. The film was edited by two-time Oscar winner Pietro Scalia. It is narrated by Laurence Fishburne (English), Ken Watanabe (Japanese), and Enrique Rocha (Spanish). Musical collaborators include Michael Brook, David Darling, Heiner Goebbels, Lisa Gerrard, Lukas Foss, Nusrat Fateh Ali Khan, and Djivan Gasparyan.
The Ashes and Snow exhibition includes more than 50 large-scale photographic artworks, a one-hour film, and two short film "haikus". None of the images have been digitally collaged or superimposed. They record what the artist himself saw through the lens of his camera. While Colbert uses both still and movie cameras, the images are not stills from the film.
Touching Photographs of Animal-Human Bonds: Ashes and Snow